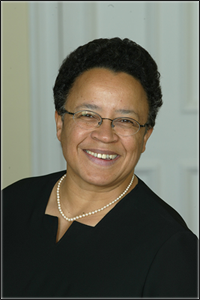 Dame Linda Dobbs DBE, B.Sc., LLM, Ph.D., served as High Court Judge on the Queen's Bench Division for nine years from 2004 until 2013. She was the first non-white judge appointed to the High Court in the UK.
Dame Linda took early retirement in 2013 to pursue various other interests. She is involved in the training of judges and lawyers internationally, particularly in Africa and the Caribbean. She has chaired a number of inquiries. She recently carried out a report into the activities of Stuart Hall for Dame Janet Smith's inquiry into the Jimmy Saville affair at the BBC. She does mediation work and is involved in several charities aimed at helping disadvantaged young people and promoting diversity.
She was called to the Bar in 1981 and had an extensive criminal practice, specialising in fraud and white collar crime cases. She has considerable experience of professional disciplinary tribunals, sitting as a Legal Assessor for the General Medical, General Dental and General Osteopath Councils. In 1998 she became a Queen's Counsel.
Dame Linda was active in Bar Council committees. She was a member of the General Council of the Bar and chaired the Professional Standards Committee and the Race Relations Committee. In 2003 she became Chairman of the Criminal Bar Association, where she set up the Association's first Equality and Diversity sub-committee.
She has regularly featured in the Power 100 List of Influential Black Britons and she is involved in mentoring young people from minority ethnic backgrounds.
Dame Linda sits on a number of boards and advisory panels and is a former chair of the Ethics Policy Committee at the London School of Economics, where she sat on the Court of Governors (2006-15). She holds six honorary doctorates in law, is a Senior Fellow in the Law Department at the School of Oriental and African Studies (SOAS) and is Pro Chancellor at the University of Surrey.
Dame Linda studied Russian and Law at the University of Surrey, graduating in 1976. She went to the London School of Economics and Political Science where she obtained a Masters degree in Law, followed by a Doctorate in Soviet criminology and penology.